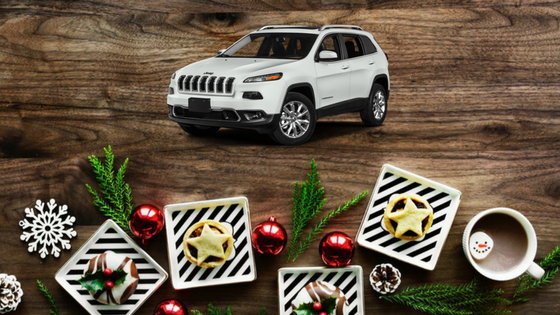 "Good news, I saw a dog today."
Christmas movies are an essential—and quotable—part of the holiday experience. They make the difference between sitting on the couch with your cousins quietly versus loudly enjoying festive puns with close family during the season of giving. However, there is one way in which these titans of mistletoe and holly can improve—put a Jeep in them. Let us prove to you how each of your favorite movies can be better with at least one automotive cameo:
Elf: After Buddy the Elf emerges from the famed Lincoln Tunnel, he accidentally steals someone's Uber on the way to find his biological father at the Empire State Building. Buddy is immediately enchanted by the adventurous Renegade, mentioning it excitedly to Santa while fixing his sleigh on that fateful Christmas Eve.
It's a Wonderful Life: Distraught and overwhelmed, George Bailey crashed his car into a tree near Bailey Park. After Clarence the Angel worked his miracle and restored hope and faith to him, George remembered that his car is out of service and immediately invests in an early Jeep model for his young family.
Home Alone: While Kevin holds down the fort back home in Chicago with Christmas movies and amateur guerrilla defensive techniques, his mother desperately tries to get back to him from their Parisian holiday. Luckily, she has a chance encounter with a budding polka band and drives with their band manager in his Cherokee. Yes, she could still hear the tuba from behind the closed door and the windshield.
A Christmas Story: Ralphie would never have uttered "fudge" during that unfortunate tire change with his father, since Jeep models come with exceptional quality tires that don't easily pop during Christmas tree shopping.
Love Actually: Jaime drives Aurélia home faithfully every day in his Wrangler while she falls for both him and his outstanding SUV. After David tracks Natalie down, they pile with her family into her trusty Compass and head towards the Christmas program. After the program, Daniel and Sam race down to the airport in Daniel's Patriot. Colin's American rental car is a Wrangler Unlimited, sparking the interest of every girl in his path. Sarah, Mark, Harry, and the rest of the gang all take advantage of Model Year End sales.
Moral of the story: everything is better with a Jeep. Watch a Christmas movie for inspiration, then check out our inventory online for more holiday magic. We wish you and your family a warm and happy holiday season from everyone at Larry H. Miller Chrysler Jeep Avondale!