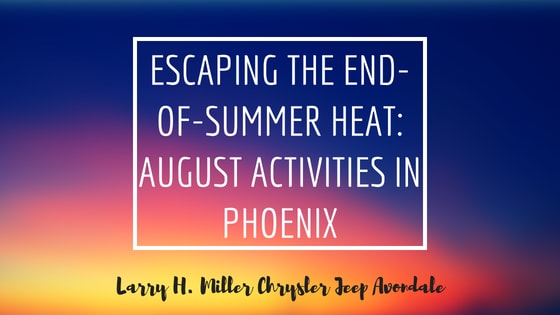 Whether you like it or not, summer is winding down, but it's not going out without a fight. There's still plenty to do in Phoenix, and you'll find August will be filled with activities both outside and inside for those who want to escape the heat.
August 1–9, children can enjoy 'Old MacDonald' at Great Arizona Puppet Theater. The sing-along show will have your kids mooing and neighing along to Old MacDonald classics. The activity is recommended for children ages 2–8. It costs $8 for children, $12 for adults, and is totally free for toddlers under the age of 2.
On August 10, come out to 2nd Friday as they try to learn "How Hot Is It?" in their monthly themed block party. The event is family friendly. Fair warning: it's going to be hot. Live music aside, the organizers say it will be "Hot enough to fry an egg on the sidewalk!" They're fighting the heat by hosting more than 50 cool artists and vendors, and it's all free.
If you're looking to escape the heat by getting out into nature, head on over to Birds in the Garden. Just bring some sunscreen and your binoculars each Monday morning to the Desert Botanical Garden. The walk heads out around 7 a.m., and it's a free activity to all, whether you are a bird-watching aficionado or novice.
On August 11, Arizona Mills is celebrating students with a Back-to-school Unicorn and Slime Party. Youtube star Just Ameerah and the rest of the Navalua family will also be holding a meet-and-greet activity. Families can also enjoy a "Magical Unicorn Costume Contest" alongside plenty of music, games, and activities. Admission is free, and the first 200 attendees will receive a free gift!
August 11 marks the return of H2Oasis at the CityScape in Phoenix. Central Avenue and Patriot's Park will become a water park offering refuge from summer's ever-escalating temperature. A $5 minimum donation is required, but organizers say it's a perfect place for families to "cool off, chill out, and learn all about water safety from the Lincoln Family Downtown YMCA."
If all else fails, and you'd prefer to escape the heat away from the city, summertime is the perfect time to dive into the nearest body of water. But whether it's Salt River Tubing or cruising with the kids to the nearest local pool, make sure your car can handle the heat.