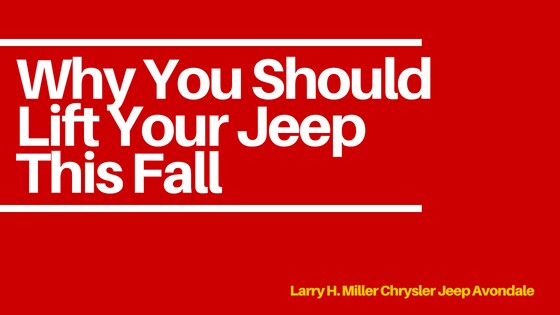 Imagine this scenario: You've just purchased a new Wrangler. You saved for months and test drove several models before deciding on the one now proudly standing in your driveway. Now you're researching roads to christen it on this fall. There's only one thing that could possibly make this experience as Jeep-worthy as possible—a lift kit.
A lift raises the suspension of the vehicle and improves the off-road performance. It's usually popular with Jeeps, trucks, and other durable SUVs. A lift kit includes all of the parts to make this possible, making your life decidedly less complicated.
There are a few reasons why one would opt for the whole kit. For starters, the off-roading potential is undeniable. Having a higher suspension means your vehicle is able to stretch its usual limits. You can drive it confidently over terrain that would have been too high for a normal, factory-condition vehicle. The higher clearance means you can hit the trails as much as you want this fall, making a kit an ideal fall break staple.
A lift kit also speaks to the confidence and style of both driver and vehicle. A lifted Jeep says, "I know who I am and I like it." It says, "Adventure guru" and is sure to get you the highly-coveted nod when you pull up alongside a similarly lifted model. If you're going to school in a lifted SUV, everyone will want to ride with you. If you're past that stage of your life but aren't ready to give in to the minivan just yet, we encourage you to treat yourself and see how fantastic picking up the kids from school in a lifted car feels. They'll be the coolest kids in school, riding in a unique ride to school and hitting the trails on the weekends.
Our parts and service department specializes in providing and installing these kits on any model that could use a little sprucing up. Visit our dealership on Papago Freeway to see how perfect the kit looks installed—you're going to love it!Why You Should Lift Your Jeep This Fall