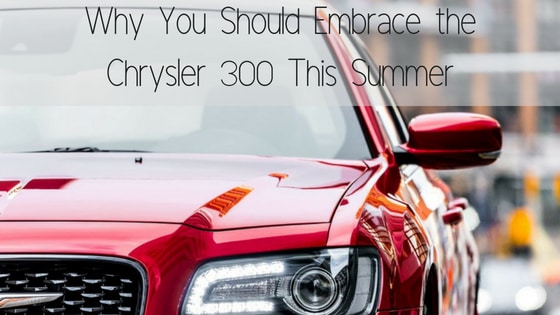 You're a consumer of refined tastes. You enjoy the finer things in life, including automotive excellence. We're here to present the epitome of sizzling sedans—the luscious Chrysler 300. Not only will all of your neighbors be incredibly jealous and seek you out for drives but also this is a vehicle that won't cost a small fortune. Here are a few reasons why you should take one of these bad boys home this summer:
The most obviously attractive element of this model is the exterior. This is a sedan that is guaranteed to make your summer sizzle in the best way. It features bold, defining features like the square, carefully-sculpted front, polished grille, and LED headlights. This is a vehicle that makes you double take when you see it on the road, wondering where the nearest Chrysler dealership is and how quickly you can get there. (P.S.: it's on 10055 W. Papago Freeway in Avondale—see you there!)
The interior of the Chrysler 300 is every bit as glamorous as the exterior. We're so impressed with the available leather seating, smooth finishes, dial transmission, and other tech-savvy yet suave features assembled in the car. Plus, the cupholders in the front console are heated and cooled—they keep your drinks as frosty or as warm as you want! That's a huge victory for drivers and passengers everywhere.
The Chrysler 300 is a safe and tech-savvy car—quite the winning combination. It comes with available LaneSenseⓇ Lane Departure Warning, Adaptive Cruise Control, and more. Whether you're a parent, young professional, or simply someone who appreciates automotive safety at its finest, this is the car for you. You'll be confident and safe behind the wheel, and that's what matters most when it comes to driving.
We have over one hundred of these beautiful sedans in our inventory right now, each waiting for their new family! Scroll through our online inventory and determine which model you want in your driveway this summer. Then, stop by our dealership to test drive it in person. You'll love the style, power, and safety all lovingly wrapped up in one spectacular vehicle.