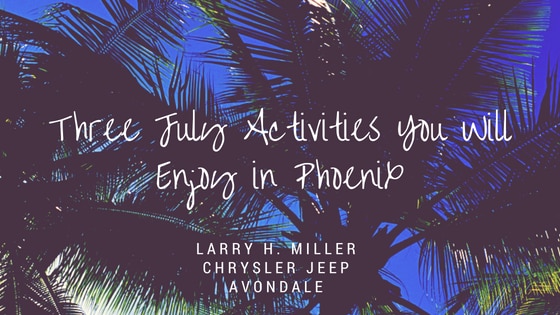 When you think about Phoenix, Arizona, during the summer, you probably start sweating. Living in the desert can mean battling triple-digit heat, scorching sun, and more. However, there are some cooler parts, like the amazing music and food scenes we get to enjoy all year long while others suffer through snow. Here are three things that you can enjoy in this area during July:
Grab some ice cream at the Sugar Bowl. This

Scottsdale creamery

is one of the best parts of living in the Phoenix area! Famous for its cameo appearances on "the Family Circus" cartoons, The Sugar Bowl offers sweet treats like ice cream, fountain drinks, and more on their menu. It's great for both a date night and some family fun. Stop by for a trip to the good old days—and some of the best ice cream you've ever tasted.
2.

Whether you've been here since infancy or are attending one of the local universities, you can't call yourself an Arizonan if you haven't climbed

Camelback Mountain

. There are trails and hikes for people of all ages and abilities. We recommend going in either the early morning or the evening to avoid the heat. Make sure to bring plenty of water, sunscreen, and a winning attitude. You'll come back home with a great sense of accomplishment as well as a fun summer memory.
3.

Check out some sweet street art! Street art is one of the most vivid and beautiful ways to express yourself—just ask the artists who have made Phoenix their canvas. There are murals and places all over the city that you can take Instagram photos in front of.

Thrillist

has taken the liberty of putting together a list of murals to visit. Treat yourself and make July an artistic month.
Before you embark on your chosen summer adventure, come see us for a shiny new car! You can drive around our beautiful—and hot—city in an air-conditioned Jeep like you've always dreamed of. Scroll through our monthly specials online. Then schedule your test drive. We guarantee you'll have a memorable—and cool—July!